Werner's Wings releases its first upgrade for the Italeri OH-58D Kiowa Warrior, the 1/48th scale Hellfire Launcher and Missiles (Stock# 48-07). Included in this set is one Hellfire Launcher (early style) with two missiles, and four AVR-2 antennas. This set can be easily added to your Kiowa Warrior by just utilizing the Universal Weapons Pylon and mounting it to the saddleback on the Hellfire launcher. Kiowa Warriors normally carry one launcher but are capable of carrying two. The weapons system will address a short coming of the Italeri kit and make yours stand out. We are including four AVR-2 antennas for your use. Italeri only contains two. The AVR-2, when mounted, has four sensors, never two.
This set is not quite ready for sale as I am waiting on the AVR-2 antennas to be cast, but we are taking pre-orders on them. The cost is $12 USD plus shipping.
For those who want decals for the Hellfire missiles, we direct you to Fireball Modelworks for their weapons stencil set.
Plans are underway to make a later Hellfire Launcher for the AH-64D and a standoff that will allow you to use two or four of these sets on the AH-64 Apache.
Just the missiles and launcher. Complete set will have four AVR-2 antennas.
Front of launcher detail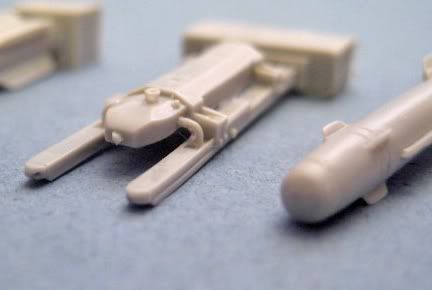 Underside detail. No detail left out.