You've watched the progress and now they are ready. UH-60 Blackhawk- Workhorse of the Army are now available in all three major scales.
Designed by Mason Doupnik, you get markings for 18 different aircraft plus 3 extra markings for aircraft that we didn't have all the information for. The history of the Blackhawk can be followed from Urgent Fury through modern day Afghanistan, including Ft. Rucker. Of course there are a bunch of Medevac aircraft to go with the new UH-60 Medevac Interior (35-08) set. The decal themselves are printed by Cartograf so they are literally the best decals in the world (and they don't print cheaply either).
For those of you who want to build more than one Blackhawk we also provide stencils in 1/35th and 1/48th scales.
Pricing is as follows.
35-01 - $16
48-03 - $14
72-02 - $12
Stencils
35-02 - $6
48-04 - $5
Here are the subjects. These pictures are not included in the instructions. I recommend you right click and save them and print them out on a color printer.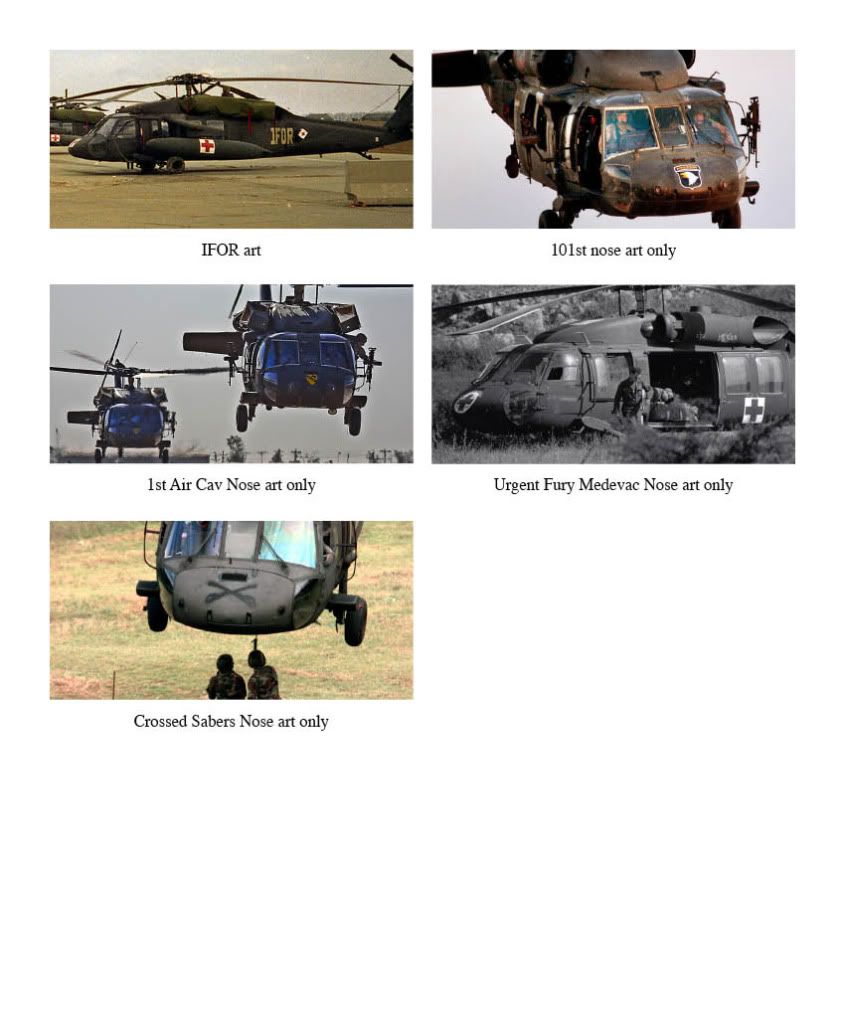 Look for the Night Stalker decal sheet covering the MH-60s, as well as, the A/MH-6s and MH-47s of Task Force 160th soon. I'll update the website as soon as I can get to it. Check us out on Facebook and on EBay. You can buy direct from me by contacting me at
fwernerjr@comcast.net
. For OVERSEAS customers email me at
info@wernerswings.com
.
I hope you enjoy them and I look forward to seeing many Blackhawks being built. Thanks again to Mason, literally without him this set would not have come about. Thanks Mason.
Floyd