Here is the latest release from Wernerís Wings, the 1/32nd UH-72 Lakota Conversion and Medevac Interior (Stock# 32-04), designed for the Revell-Germany EC-145 kits. You get all the things that make the UH-72 unique. There are two new rear doors with oxygen bottles, two stretchers, mounted medical equipment, some loose cockpit items, three folded rear facing seats and the unique hoist.
They are available for immediate release. Currently I only have 12 sets for resale. When they are gone they are gone until I can get more in. This set is difficult to mold and as such it is a little more labor intensive and expensive than I would have liked but there is nothing I can do about it. The cost is $40 USD plus shipping.
Donít forget to get your decals from Fireball Modelworks. Wernerís Wings will not be releasing any decals for this aircraft as the Fireball ones are perfect.
Complete set
Parts are just tacked on with white glue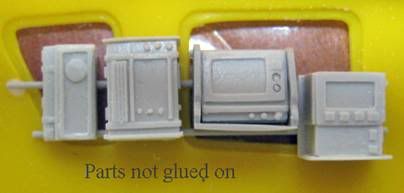 Two pictured but you get three